Sears Credit Card
Apply for a Sears Credit Card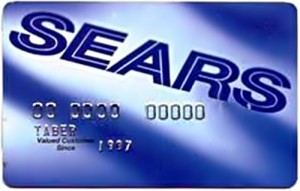 When you are approved for Sears Department Store Credit Card you can use your card at Sears, Kmart, Sears.com, Kmart.com, Lands End and more.  You will receive monthly savings and valuable coupons for card members.  You will special financing  offers every day.
Be the first to know about exclusive Sears sales, specials and savings opportunities.
Is Sears Credit Card Good Enough?
Sears Store Credit Card
The Upside
No membership fee
$30 Welcome Bonus in Sears Club Points on application of Sears store credit card
2 Sears Club Points per $1 spent at Sears
Collecting 1,000 point will earn you $10 free rewards at Sears
Special deals, promotional offers, coupons, vouchers
Financing deals like 5% off or no interest paid for up to 12 months
Add additional users on card
No liability coverage for unauthorized purchase if card is lost or stolen
'Temporary shopping pass' in case you forget your card at home
The Downside
Very high interest rates. The "special financing offers" offered by the Sears store credit card are not that special after all. If you are not after the point and rewards, the financing offers are not very alluring. With an Annual Percentage Rate of 25.24%, the interest rates are sky high.
If you already own a Sears credit card, login to your account to check your balance, view statements or make a payment.  If you have any questions, you can contact customer service.
Sears Choice Rewards Program
This is a point-rewarding program that allows customers to redeem the points they have collected on every purchase using the Sears store credit card. You receive 1 point on every dollar spent on purchase. Once you can have earned enough reward points, you can exchange them for items such as electronics, home products, gifts cards and event travel tickets and hotel accommodation vouchers. You can earn unlimited point but they last for 3 years.
The Sears Choice Rewards Program is an economical and feasible way for any customer to earn points on every purchase using the Sears store credit card and redeeming point for any item of their choice. A minimum of 2500 Sears reward points must be earned to redeem them. You can check your reward points on your Sears MasterCard billing statement.  Manage your Sears card account online–whenever it suits you. Securely view your balance, statement, payment due date and recent transactions.
Is the Sears MasterCard Better?
The Sears MasterCard is issued by Citibank for the Sears customers. A big plus of this is that is it accepted worldwide by any business that accepts MasterCard. Apart from the pros of owning a Sears store credit card, being a Sears MasterCard holder has the following benefits:
Worldwide Acceptant
$30 Welcome Bonus in Sears Club Points on application
2 Sears Club Points per $1 spent at Sears
1 Sears Club Point per $1 spent everywhere MasterCard is accepted
Collecting 1,000 point will earn you $10 free rewards at Sears
Being a Sears MasterCard holder automatically makes you eligible to join the Sears Club
Account Online | Go  Paperless | Recurring Payments | Protection & Security