Plenti Rewards Program – A credit card reward program is a great perk when you use your credit card and accumulate points for your purchases.
What if there was a way to get rewarded when you shop at your favorites stores, or put gas in your vehicle or even for eating at a restaurant?   Well, guess what?  You can get rewarded for all of the above.
Welcome to the Plenti Rewards Program.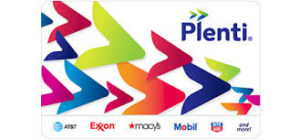 Plenti is a rewards program you can join for free.  You earn points just for using your card. You get  a rewards card and earn points at Macy's, AT&T, Exxon, Rite Aid and many more places as well.
It's easy to apply for a Plenti card at any Macy's Department store.  You can see a sales agent or visit Macys.com/plenti.  The best part of Plenti is the ability to link your Macy's credit card to your Plenti rewards card.  You can earn 1 plenti point for every $10 spent on qualifying purchases.