Lord & Taylor
Lord and Taylor Credit Card Review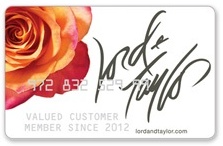 Lord and Taylor is the US's oldest high-end, specialty-retail department store chain. With its flagship store is in New York City, L&T has paved its way to be known as an 'American institution of Shopping'. L&T consists of 47 physical stores with an online presence through its website. Does the value attached to its products extend to the Lord and Taylor Credit Card?  Log-in to your Lord & Taylor credit card account.
Lord and Taylor Credit Card
The L&T credit card is operated by GE Capital Retail Bank and comes in two versions – a regular card and a premier version. Like most store credit cards, the feature that sets the two apart is the total amount of purchase you can make on the card. Both cards can be used only in-store.
Lord and Taylor Regular Credit Card
With this Lord and Taylor credit card, you are entitled to the following benefits:
Special Cardholder Events – a great benefit for shopaholics, with the L&T credit card you can attend 8 to 10 exclusive shopping events per year and also receive 10% discount during the events.
15% off Statement Coupons – if your credit score meets the criteria, you could be entitled to receive occasional 15% off on the whole credit card statement offers, which is big money saver. If you purchased items already on discount, 15% makes for enormous savings.
20% Birthday Coupon – use the Lord and Taylor credit card during your birthday month and receive 20%.
25.49% Variable APR – the no fee credit card has a high APR due to the more lenient credit score requirement. At 25.49%, you must pay your debts monthly to make the most of the benefits.
– Additional benefits include receipt free purchase, 0% fraud liability and payment options both in-store and online.
Lord and Taylor Premier Credit Card
To qualify for the premier version, you must spend $1,500 annually at L&T and continue spending even after you've been upgraded. This Lord and Taylor credit card bags you a few additional perks. The best one being taking advantage of coupons and saving passes without actually bringing them to store – the offers will automatically be included in your purchase with the card. As a Lord and Taylor Premier cardholder, you get an exclusive customer service number and access to special offers and discount not available to regular cardholders.






If you are a loyal Lord & Taylor customer, sustain good money management and pay your debts on time, the offers and discounts through Lord and Taylor credit card could be great for you.
Related Articles:
Phone Numbers
Payment Address
Store Credit Cards