Finance your Healthcare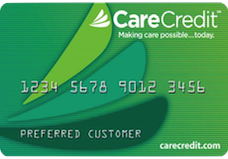 If you are like most people, you do not have extra money to pay for any for out-of-pocket healthcare expenses. If you are looking for financing for your healthcare Doctor bills then visit Synchrony Bank Care Credit Card.
Review of CareCredit Credit Card  (Please Note: We are not an affiliate of Synchrony Bank.) 
This credit card helps patients pay for doctors visits without paying for out of pocket fee's and expenses. This card is issued by the Synchrony Financial company. Log-in to your account and check balances and make payments.
One of the great options is it offers shorter term financing options of 6, 12, 18 or 24 months with no interest.    If you make the minimum monthly payments and pay the full amount due by the end of the promotional period you will not be charged any interest.
If you do not finish your payments on the date of promotion, interest is charged from the original purchase date.
This program is not for everyone, it is a great option for someone that would like financing for Doctor care for a short amount of time.
Just like any credit cards, try to pay on time and more than the minimum payments instructed to lessen your interest paid so you will save money.
If approved, you can use it as often as you like on these categories.
Manage your Doctor yearly visits
Wellness visits
Beauty costs that are usually not covered by your insurance.
Ability to use this card at over 200,000 locations
Instant Decision and Approvals
Credit Card Application Phone Number if you have any questions.
(800) 677-0718 to Apply over the phone
Apply for other credit cards issued by Synchrony Financial