Sears Credit Card Review – The good thing with shipping at Sears is that there are plenty of payment options accepted. In addition to the Sears branded cards, shoppers can use other cards that are linked to Visa, Mastercard, American Express and Discover. So why would you want to go for the Sears credit cards instead of the other options?
If you shop a lot at Sears, you will find their cards very useful in discounts and offers. These cards can be used at all Sears locations and services including Sears Auto center, Sears Optical and Sears Dental. They can also be used at Kmart.
There are two types of Sears cards: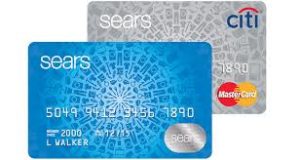 This card is used only in Sears and Kmart stores as well as the online platforms of these two. This card has a points based rewards system. Every $10 of spending gains 1 point. The points are redeemed at a rate of $1 for 10000 points which translates to a 1% reward rate. here is also the Shop Your Way rewards program which offers more points in discounts and promotions. Cardholders can also access financing on large purchases.
This card is accepted at all purchasing points that accept Mastecard. This card has a differentiated rewards program. The first year earns an unlimited 2% back in points at Sears and Kmart.
Applying
Applications are accepted from those with a Fair credit rating. This translates to a 660-699 FICO score. These cards can be applied for online or in-store.
Card costs
Sears card costs:
$0 annual fee
49% variable APR on purchases
40% variable APR on cash advance
$37 late fees
$37 returned payment fees
Sears Mastercard:
$0 annual fee
49% variable APR on purchases
40% variable APR on cash advance
$37 late fees
$37 returned payment fees
3% foreign transaction fees
Shop Your Way program
This program allows shoppers to earn even more points and cash back. Examples are:
10% back on apparel items purchases in the first $500.
1% back on all purchases over $500
90% of the points earned in this program should be redeemed within 90 days. the remaining 10% is eligible for up to 12 months.
Monthly offers –
Sears will usually run monthly offers in which shoppers can choose between a discount and an interest free debt financing period.
5% off electronics worth over $599, or no interest if paid within 12 months
5% off select furniture items, or no interest if amount is settled in the agreed time
Sears cards carry high-interest rates, so they are suitable only if you make large purchases or shop very frequently at Sears.