Firestone Credit Card Review –  How many times have you been to an auto shop only for the mechanic to point out  something else that needed fixing? A Firestone credit card comes in handy in situations like these. This card can be used to finance your tire changes, car engine repairs, and auto accessories purchases.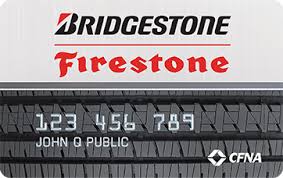 The Firestone Credit card is for use only in Firestone locations. This is over 6,000 locations across the US. This card is issued in partnership with Credit First National Association. As such it cannot be used in ATMs and other major retailers like Amazon or Target.
Card features
$0 annual fees
8% APR variable
$1 minimum finance charge
$15 late payment fees for $100 balance, and $35 over this amount
Applying for the card
This card is friendly to those with a low credit rating.  Applicants need to have a Fair credit rating. This is 660-699 FICO credit score. Application can only be done online or in person. When done in person, the approval is within a few minutes. This card is sold by other store partners.
Rewards
zero interest financing option for major purchases worth $299 and over. The financing period is 6 months. For those with a good credit rating, the  interest free payment period is extended to 12 months
Special discounts on tires and auto care with deals exclusive for cardholders
Paperless billing
Email notification for due dates
Pros
Quick approval
Extended periods for interest free payments on major purchases
Generous credit limits for people without good credit scores
Cons
Restrictions – This card cannot be used in other places other than Firestone locations and partners. This restricts motorists to the brands available in these stores.
No cash advance – A car breakdown will often require money for the car's repair, and for other needs such as emergency lodging and accommodation. This card cannot be used at an ATM or over the counter cash advance.
High APR- if you fail to pay the required amount during the specific interest-free period, a high APR of 22.8% will kick in.
Who needs this card?
The benefits of this card are realized by making frequent purchases or major purchases worth hundreds of dollars. As such, it is suitable for small businesses that have several cars to maintain, which need several tire replacements at close intervals.
This card would be suitable if you are running a small fleet of cars, and you are taking care of the vehicles directly instead of using a fleet management service. It saves the hassles of running after every little expense at the garage.  Apply for another credit card other than Firestone.
Apply for Firestone Credit Card