Best items to Buy on Sale or on Clearance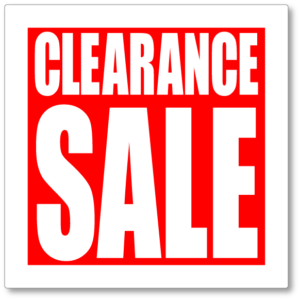 Each month items go on sale and even better they go on clearance. Both these sales are great. For those of you who don't know the difference in these sales let us explain it to you.
A clearance sale is usually intended to "clear the shelves of the sale items" because the store will no longer sell them. A normal sale is just a discount usually for a specified length of time and is intended only to increase sales of the sale items, which the store may or may not continue to sell. This may be because new models might be coming in soon, or a new shipment might be coming, so it's necessary to sell more of these items to reduce stock on hand.


The following usually sell in the months listed:
January – Winter clothes, furniture past models, motorcycles and fitness gear and clothes. This is time when people make their New Year's Resolution which means the number one resolution is losing weight. Therefore, most exercise equipment such as treadmills, weights, bicycles, clothes and apparel go on clearance by the end of the month.
February – Deep winter clothes, discounts on flat screen tvs which is just in time for the SuperBowl.
March – Luggage, winter sports gear, frozen food sales. So stock up on your savings.
April – Its that time. Deals on tax software to get your taxes done which are due mid-April. Tires, beauty products and sneakers.
May – Lawn and garden products, mattresses, camping gear and spring clothes go on sale.
June – Lingerie, Home Decor, Carribean vacations.
July – Swimwear and outdoor furniture go on sale. Back to school sales begin.
August – Wine, office and school supplies and laptops.
September – Grills, past model appliances
October – Denim jeans, back to school clothing clearance, older appliances and cars.
November – Halloween candy, costumes are heavily discounted and cookware and electronics.
December is a busy month for sales:
10th – Fitness Gear
11th -13th – High Def TVs
14th-17th – Jewelry & wedding bands
15th Stocking stuffers and laptops
16th – PS4 and xbox video game consoles
16th – toys
18th – apparel and shoes
18th – kitchen items
Best items to Buy on Sale or on Clearance 
Shopping Clearance Appliances:
Save money and valuable time when you shop for clearance housewares online. There's no need to pay full price when you can find the housewares you need for your home, including vacuums, air filters, heaters and fans, at discounted prices. Read on for the best reasons to buy clearance housewares.
Best Day of the Week for Sales:
Thursdays Are Best
If you want first dibs on a pair of shoes you've been eyeing, your best bet is to try shopping on a Thursday. Stores know that most people come to the mall or the shop on the weekend, so they begin preparations on Thursday to mark down old merchandise and rotate new merchandise into the store.
By shopping on Friday and Saturday, you might score a great deal, but you might also have a limited selection – that's not good if you want something specific. By shopping on a Thursday, you can have the best selection paired with the best prices to snag the item that you desire.