Increase your Credit Limit –  Did you know that banks and finance companies set the credit limit based on multiple factors such as the individual income, credit history, and spending factors.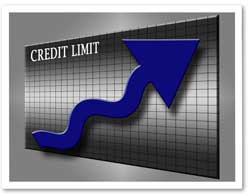 If you feel that your credit limit is on a lower side and you would like to request an increase to your credit limit you can.  However, an important point to note here is that the decision of your increase credit limit should only be entertained if you know how you are going to use your credit responsibly.
Remember that if you are a compulsive spender, requesting an increase on your credit limit isn't a great idea. But if you pay your credit card bills on time, increasing your credit limit gives you the benefit of more flexibility and help with the credit scores as well by lowering the overall credit utilization ratio.
Ways to get your credit limit increased
Increase the amount of security deposit on your secured card
To enhance the credit limit on the secured credit limit, all you have to do is to pay more towards your security deposit. This is a simple way to enjoy the enhanced credit limit in few easy steps.
Apply for a new credit card
One of the best ways to increase the credit limit is by applying to a new card with the higher credit limit. This option is easier for the users who are always sincere with their due payments, maintain a healthy credit score, and use their credit in a responsible manner. Even if your new credit card is approved with the same limit, you can enjoy the benefit of available credit limits on both the cards.
Request for an increase on the existing card
A lot of banks consider the request for an enhanced credit card limit for the existing credit card users. Among the factors considered by the banks for approving the credit limit increase request includes a healthy payment history and the credit report.
Furthermore, the chances of enhanced credit limit diminish if multiple card issuers are pulling your credit report at the same time as this represents the desperation for availing further credit that reduces the overall credibility.
Apply for a Credit Card– When choosing the right credit card, you should know what type of card your looking for.  Do you want a card that offers balance transfers, low interest rates, or maybe even travel rewards.  When applying for your credit card, its important to know what your credit score is.  This will help determine your credit limit and if you are eligible for approval.