SHOP AT TARGET STORES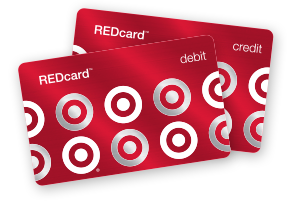 Apply for a Target credit card. Now the REDcard saves you 5% on top of our already low prices on every Target shopping trip, every day. As soon as you're approved, the savings begin.
You'll automatically get 5% off when you use your card in Target stores in the United States and on Target.com. When you use your REDcard at Target.com, your purchases ship for free. No minimum purchase. And that's on top of the 5% savings you already receive just for shopping with your REDcard. Need a little extra time? No problem. In addition to saving 5% off your purchases plus free shipping at Target.com, your REDcard lets you enjoy 30 extra days for returns.
Read More About Target Credit Cards  |  Target Supports Education | FAQ Schools | 
Things You Should Know When Shopping at Target
1. Target mark down their products regularly.  The schedule is as follows:
Monday: Electronics, Kids Clothing, Books, Baby and Stationary.
Tuesday: Domestics, Womens Clothing, Pets and Market food items.
Wednesday: Mens Clothing, Health and Beauty, Diapers, Lawn and Garden, Furniture
Thursday: Houseweares, Lingerie, Shoes, Toys, Sporting Goods and Luggage
Friday: Auto, Cosmetics, Hardware and Jewerly
2.  Check the price tag for percentage off.   The lower left shows the original price and the upper right corner shows the percentage off the markdown.
3.  If the price ends in $0.06 or $0.08, the item will be reduced again.  As long as there is inventory in the store, it will probably remain on clearance for another two weeks.
4.  If the price ends in $0.04, the item is final clearance.
5.  You are limited to the amount of returns you make without a receipt.   You are limited to make up to $75 in returns without a receipt.
6.  If you purchase electronics or entertainment items, you only have 30 days to return it.
7.  When using your red card not only do you get 5% off purchases, you have an extra 30 days to return any item. Plus, there is no annual fee.
8.  Did you know you can return purchases at Target by mail for free.   Yes, just visit the online return center and print out a prepaid return label.  Target will pay shipping fees.
9.  Target matches competitors ads. No questions asked.
10.  If you pay by check it takes 10 days before you get a refund in cash or a Target gift card.
11.   Target now has coupons that can be sent to your phone.
12.  Appy for the Target app and you can get 10 or more coupons each week.  Your cashier can just scan your phone if you decide to use one and the app is free to download.
13.  The Cartwheel app is a free app by Target.  You can always save everyday.    The app will link to your facebook, but you can choose whether or not you allow it to post for you.
14. Did you know at Goodwill you will find brand new Target merchandise because Target donates their clearance items that don't sell to them.
TARGET GIFT CARDS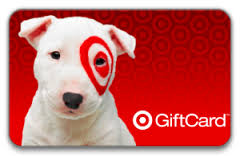 Target Gift Cards are the easiest way to motivate employees or drive sales and traffic.  Visit Target.com/corporategiftcards, or call 1-800-5GIFTS5 and get ready to bet on red for black.
No Fees. No expiration. No Kidding – Unlike other gift cards, Target GiftCards never expire or have fees. The amount you put on them is the amount they get, whenever its given or used.  And they are good at any Target store or online at Target.com, when they can be used 24/7/365 days.
Pick up a Fast Pack – Reward or entice in a hurry with a Fast Pack.  They are available in quantities of 10, 20, or 50 gift cards at guest services at any Target location.
Order Online –  Gift cards are always available a click away.  Visit Target.com/corporategiftcards to order away or just learn more about the program.
Pick a card, any card – Target gift cards come in a variety of images and packaging options that match your needs.
Make it personal- Giftcards mean more with a customized message. Just tell us what you want to say and they will make sure its read.
Target works for you – Target is one of the most recognizable brands ever.  Put it to work for you.  Use the Target name and select gift card images in your marketing for free,.  The approval process is simple and painless.
Easy payment – Target accepts company checks and credit cards. Or use the perferred Target Business Card. Its quick, convenient, and gives you free rush shipping every tiem you throw your giftcard order on it.
Ready for business – Order Target GiftCards today.  Visit Target.com/corporategiftcards and click on "get started".
TARGET DEBIT CARD
The Target Debit Card works like a check at Target and online at Target.com, only there is no check writing involved.  It debits your purchase amount from your checking account and let you withdraw up to $40 cash over the amount of your purchase amount.  You save 5% off already low prices every day with your card.  Now you also receive an extra 30 day return policy.
Use Your REDcard to help a school.  Enroll for free in Take Charge of Education and Target will donate 1% of your RedCard purchases made at Target to the eligible K-12 school of  your choice.
Sign up for Pharmacy Rewards, fill your first eligible prescription and get 5% off a day of shopping.  Combine your reward with the 5% savings you get every time you use your Redcard.
To apply fill out the application and mail it in along with your voided check. That is it. Once approved, you will be enjoying great savings and rewards.
Here is what Target Debit Card Application looks like: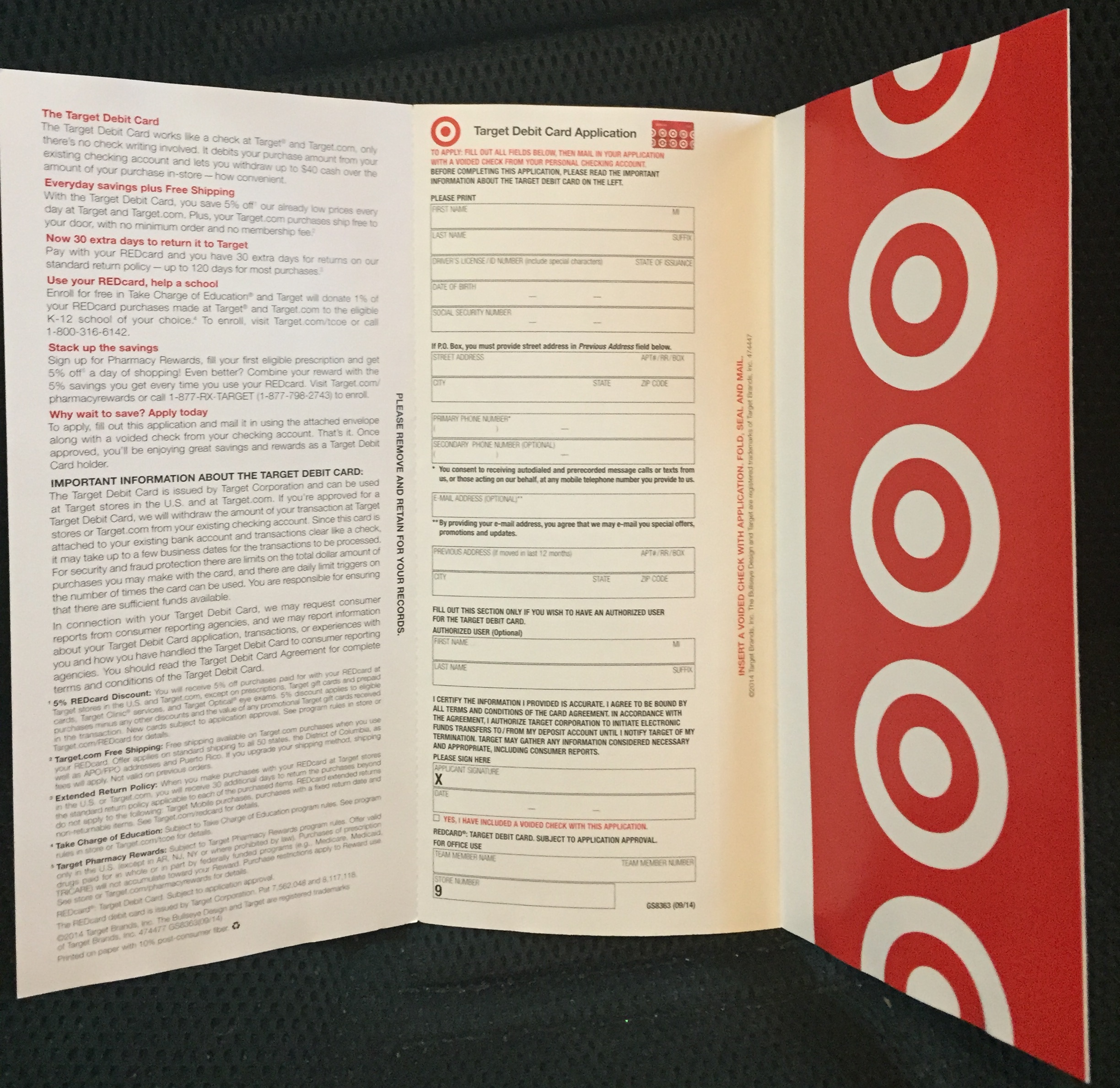 ---
Target Stores | Benefits Program | Gift Cards | Supports Education | Return Policy | Login | Customer Service
---
Related Articles:
Phone Numbers
Payment Address
Store Credit Cards