Mobile My Kohl's Charge
Manage your account ANYTIME, ANYWHERE! Check your balance, pay your bill, and view recent history on the go.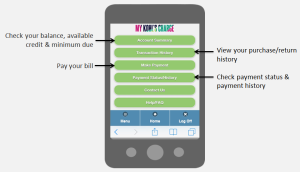 Learn a few things about My Mobile:
How do I log in to My Kohl's Charge from my mobile device?
1. Launch the Kohl's App. Download it FREE from the App store or Google Play store.
2. Click the Image icon.
3. Click My Kohl's Charge and Sign In.
Do I have to be enrolled in My Kohl's Charge online to use the mobile My Kohl's Charge?
You can use the store locator and access frequently asked questions without being enrolled. For security purposes, you must be enrolled in My Kohl's Charge online to access account information and perform other functions through the mobile browser.
Are there fees to use the My Kohl's Charge mobile browser?
Kohl's will not charge you fees. However you should contact your wireless service provider to see if any connectivity or usage rates may apply.
What options do I have to pay my Kohl's Charge?
You may make a Kohl's Charge payment at your local store, by mail, by phone or online by enrolling at My Kohl's Charge. Kohl's stores accept check and cash payments. By phone we can accept bank account information and debit card payments. Online at My Kohl's Charge we accept bank account information. Credit Cards are not accepted for Kohl's Charge payments. For more details click here.
Can I use SMS text messages to get Kohl's Charge account information?
Yes! Simply log in to your account online at mykohlscharge.com, and then select Alerts and Manage Registration from the tool bar. Once you complete the registration, you will receive a text message from Kohl's (657-10) to which you must reply YES to complete your Alerts registration.
Customer-initiated Alerts allow you to obtain account information by texting (657-10) with any of the following commands to which Kohl's will respond with the requested information or action. The frequency of customer-initiated Alerts is determined by you.
BAL – Account balance.
AVAIL – Available credit.
DUE – Minimum payment due.
HIST – Recent transaction history.
COMMAND – A list of available commands.
STOP – At any time, you can text STOP. This will prevent you from receiving any future Alerts via text.
HELP – At any time, you can text HELP which will return the following message:
Kohl's Charge: Call 1-800-564-5740 for support.