Kohl's Credit Card Rewards and Cash Back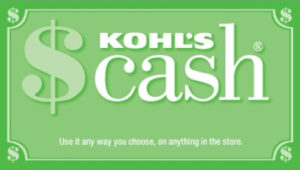 Once planning to consider Kohl's credit card, the first and important thing to understand about this credit card is that it is referred to be a retail charge card wherein it could only be used for purchases of merchandise by Kohl's. It is being issued having a store credit limit which is most of the time lower compared with credit limits being issued on regular credit cards. There are numbers of people that are getting credit cards aiming to get rewards and cash back, but does Kohl's credit card offers such perks?
Knowing that Kohl's credit card is a charge card so the balance would be expected to be paid monthly in full however cardholders could carry a balance once they are willing to pay this hefty variable APR. This credit card is not into charging an annual fee too.
Benefits and Rewards
Kohl's is not into offering a reward program with its card but it is offering rewards programs for the shoppers by the Kohl's Cash and Yes2You Reward Programs. Kohl's Cash would allow the shoppers to earn credit through their purchases. Kohl's Cash promotions are being offered periodically and in most cases could be available only to the card holders of this Kohl's credit card.
Another one is the Yes2You Rewards program allowing shoppers to earn points for those purchases which could be converted to store credit. Kohl's is also into allowing for promotions and discounts to be stacked on top of one another that could result to tremendous savings. And Kohl's might also offer cash-off coupons and these could be combined with other discounts and also the Kohl's rewards programs.
The cardholders of Kohl's participate in all the said discounts and rewards programs like all the shoppers. But the cardholders would receive up to 12 additional offers for the store discounts of 10 to 30% every year. Along with that, Kohl's is into giving those new card holders with 25% off their very first purchase that could be combined with some other store discounts. Once you also become a Most Valuable Customer through spending almost more than $600 within a year then you would receive 6 additional offers for discounts.
Indeed, there are numbers of rewards that Kohl's credit card might offer to numbers of cardholders out there.
Kohl's Credit Card Rewards and Cash Back
Cashback
For those people who are not into shopping at Kohl's most of the time, there would be a regular cash back rewards credit card that could serve them a lot better. And because this card is not into offering rewards programs outside of the one which is available to all the shoppers, the credit card of Kohl's might not be of great beneficial to you. You might indeed consider the use of reward cards allowing you to earn cash back on all the department store purchases.
If planning to at least have a credit card then this Kohl's credit card could also be a nice option. It has numerous rewards like discounts and promotions along with cash back too.