Shop at H&M Stores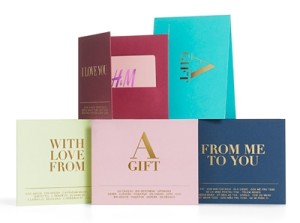 Shopping at H&M stores make shopping an easy experience. You will find everything you are looking for. H&M offer collections that are wide-ranging and varied for women, men, teenagers and children.  Accessories such as handbags, jewerly and shoes can also be purchased at H&M stores.
Find the perfect work outfit or just hanging around outfit.  The design and quality of clohting is unbeatable and price is not a question. Shopping at H&M is easy and fun.  Shop for men, women, children, kids, babies and home.  Best affordable prices.
Gift Cards can be purchased at any H&M location. They are not yet available for purchase or redeemable online, however you may check your gift card balance online.
H & M – Hennes & Mauritz AB
H&M is the inspiring successful journey of a single women's apparel shop in Vasteras, Sweden to 6 different brands and 3,000 stores around the world.
H&M History
In 1947, a store named Hennes was established in Vasteras that focused solely on women's apparel. In the years that followed, Hennes expanded far and wide. In 1968, men's and children's clothing were added to the product line and the name was changed to Hennes & Mauritz.
The first H&M store opened in US in 2000 on Fifth Avenue in New York with continued expansion in the European market. The store penetrated in Asia Pacific, Middle East, Africa and North and South America.
Today H&M, has six brands under its name – Cheap Monday, COS, Weekday, Monki, & Other Stories and H&M.
H&M Collections
H&M stores are the first choice of fashion-conscious individuals. The design team at H&M creates a range of sustainable fashion apparel – from the hottest trends to basics – made available at best prices.
The store has a large collection of contemporary, comfortable and creative apparel for women, men and kids. From casual wear to formal evening wardrobes, H&M's collections are all about tailored comfort, quality and sustainability.
Apart from trendy and classy apparel, H&M also carries fashion accessories, intimates, cosmetics, sportswear and home products.
H&M Designer Collaborations
Since 2004, H&M has collaborated with fashion icons and international designers such as Karl Lagerfeld, Madonna and Beyoncé for exclusive collections and campaigns. The design collaborations draw massive customer attention and boost H&M's brand image.
H&M Online Presence
H&M has a strong foothold online through a fully mobile adapted website, hm.com for an exciting online shopping experience. The company reaches its global market through social media networks including Facebook, Twitter, Instagram, Google+ and others.
H&M Gives Back to the Community
H&M Conscious is the store's conscious and responsible effort towards a sustainable fashion future. The company aims to be socially responsible by running its operations in an economical, socially aware and environmentally safe manner. By using natural resources, being climate smart, reducing waste and recycling, H&M constantly strives to build a better environment.
The H&M Conscious Foundation is a non-profit global foundation initiated in celebration of H&M's 60th anniversary in 2007. The foundation is focused to contribute positively to people and communities where H&M operates through programs like WaterAid, All for Children, generous donations and emergency relief efforts.
Related Articles:
Phone Numbers
Payment Address
Store Credit Cards