Godiva Chocolate – The Heavenly Experience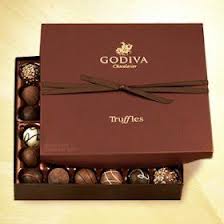 Godiva, the premium chocolate brand, was founded in a1926 by a renowned chocolatier, Joseph Draps, in Brussels. It is a global leader in the premium confectionery industry. From scrumptious chocolate covered nuts to delicious ice creams, this extraordinary brand offers a wide gamut of chocolate products. At Godiva, it's not just the taste and quality of chocolate, but also the presentation that exemplifies their prestigious brand. While its golden draped assorted chocolates are dangerously indulging, they are also pieces of bold art. What differentiates them from other chocolate brands, are their unique chocolate recipes, which maintain the same taste that was first introduced by the founder.
The Lady Godiva Story
Godiva Chocolate got its name is inspired by the legendary story of lady Godiva. In the 11th century, Lady Godiva, who was generous and kindhearted woman, lived with her husband in London. Her husband, Lord Leofric, was a powerful, but heartless ruler of that time. In protest of his unnecessarily high tax rates, this modest woman sacrificed her respect to help the people of her town. She accepted her husband's challenge, and rode down the streets of the town without any clothes on. To preserve her modesty, people stayed indoors, with their windows shut. Soon her bravery forced Lord Leofric to waive off the taxes. Every year, Godiva rewards women who show courage and bravery to fight for their rights.
Expansion Across Continents
In 1958, Godiva started expanding internationally by opening its first boutique in Paris. It further expanded to UK, Italy, and Germany also. It was introduced in America in 1966, when they opened an elegant outlet in New York. By 2009, Godiva was successfully operating in China and Japan. Godiva's flagship stores exhibit their excellence by means of exquisite interior and mellow ambiance.
Godiva Today
Today, Godiva chocolate is one of the most loved chocolate brands of the world. Its powerful distribution network consists of more than 450 company operated boutiques worldwide. Godiva has also started its e-commerce activities in a number of countries. From America to Europe, and from Asia to Middle East, this brand is spreading the goodness of fine Belgian chocolate everywhere.
Rewards Club
To reward the company's valuable customers, Govida chocolate has introduced a Rewards Club program. These privileged customers can enjoy a complimentary piece of chocolate every month. Besides other exclusive discounts, it also promises you free standard shipping for one online order. To keep the club members informed, it also issues a monthly e-newsletter, containing details of all new offers.
Rewards Club Members Enjoy
FREE piece of Chocolate every month in participating GODIVA boutiques *
Spend $20 and receive a free gift the following month *
FREE standard shipping for one online order *
Exclusive offers every month
Related Articles:
Phone Numbers
Payment Address
Store Credit Cards