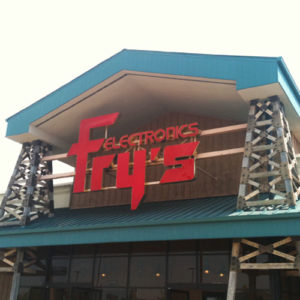 Fry's was founded as a Silicon Valley retail electronics store to provide a one-stop-shopping environment for the Hi-Tech Professional. Fry's continues to keep hi-tech professionals supplied with products representing the latest technological trends and advances in the personal computer marketplace. Fry's retails over 50,000 electronic items within each store, now totaling 34.
Sales and Customer Service
Phone: 1-408-350-1484
Sales/Customer Service Fax: 1-408-487-4700
You can contact Customer Service and Sales departments by e-mail, phone, fax, or standard mail. Sales and Customer Service are open daily from 9:00 A.M. to 1:00 A.M. ET; closed on Thanksgiving, Christmas, and Easter.
Mailing address for RETURNS:
(You must obtain a Return Authorization number, RMA#, from our Customer Service department before a return will be accepted. Please see Returns in the Help section under How to Place an Order for our return procedure.)
Frys.com/Returns
4000 Air Park Cove
Memphis, TN 38118
Corporate mailing address:
(Do not send returns to this address.)
Fry's Electronics
600 East Brokaw
San Jose, CA 95112 USA
---
Related Articles:
Phone Numbers
Payment Address
Store Credit Cards