BABIES-R-US Credit Cards
Babies"R"Us features a selection of baby products to fit every budget, including cribs and furniture, car seats, strollers, formula, diapers, bedding, clothing for preemies through size 48 months, toys and plenty of unique gift ideas
Earn when you shop at Babies-R-Us & Toys-R-Us
Member-only shopping events & discounts
Hassle-free returns
Open an "R"Us Credit Card account online and choose 15% off* or special  financing (minimum purchase required)** with your "R"Us Credit Card.
earn 4 points per $1 at Toys"R"Us & Babies"R"Us
earn 1 point per $1 everywhere else MasterCard is accepted
500 points = $5 in "R"Us Reward Dollars
no annual fee
all the benefits of Rewards"R"Us
Login to Babies R Us Credit Card
If you would like to make a credit card payment or review your account information you can login to your Babies R Us credit card account.   Need to contact BabiesRus, visit our customer service page.
Apply for Credit
You can also apply for a credit card other than BabiesRUs.  Find a retail store credit card or major credit card where you can earn rewards or receive low interest rates.
Baby's First Easter At Babies R Us
Is it your baby's first Easter?  Well, whether its your f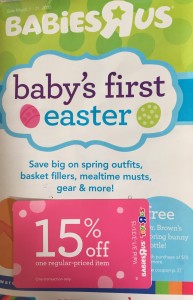 irst Easter or first of many , Babies R Us is the store to go for big savings and coupons for items like spring clothing such as hats and outfits, easter dresses and bibs and also basket fillers for your little one as well.  There is plenty to choose from at Babies R Us.
Around this time of year, Babies R Us sends out a coupon usually 15% off on one regular priced item.  Join and apply for Babies R Us Rewards and earn points. Members earbn $5 in "R" Us Rewards for every $125 spent at a Babies R Us or Toys R Us store.
It's FREE to enroll.  Sign up and Register online at toysrus.com/myrewards
Price Match Guarantee
Babies R Us also states that they will match any price.
Simply come in store and show them the same item in a competitor's printed ad, selected online retailers website or their website and they will price match guaranteed.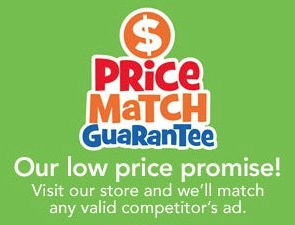 Related Articles:
Phone Numbers
Payment Address
Store Credit Cards