Additional Benefits of Having a Victoria's Secret Credit Card
ADDITIONAL BENEFITS OF HAVING A VICTORIA'S SECRET CREDIT CARD
Just for Angel Cardholders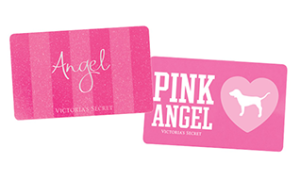 A new reward for each 250 points.
Birthday surprises each year that your card is active.
Sneak peeks at special offers and new items.
Early access to the Semi-Annual Sale.
Earn triple points during your anniversary month.
Just for Angel VIP Cardholders
Free beauty gifts throughout the year
Invitation-only access to store events.
Plus all your previous Angel benefits!
Just for Angel Forever Cardholders
Free standard shipping twice a year on Spring and Fall collections.
Annual Thank You gift for maintaining status.
Plus all your previous Angel VIP benefits!




*Your account must be in good standing at time of upgrade or reward. You'll lose any accumulated points if your account is inactive (no purchase made) for 12 consecutive months. You must maintain 1,000 points every 12 months from the time Angel Forever status is reached to continue to receive elite Angel Forever benefits. The Angel Rewards program is provided by Victoria's Secret. Victoria's Secret may change or discontinue this program at any time. For e-mail only benefit offer(s), you must provide and maintain a valid e-mail address to receive offer(s). Free gift with purchase offers are subject to credit approval. To link your Angel Card to a social media site visit victoriassecretconnect.com.