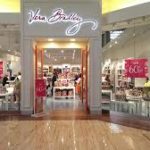 American luggage and handbag design company.
Leader in fashionable, colorful, cotton quilted handbags, accessories, luggage, and paper and gift items for women of every age.
Having difficulty deciding what to get the person on your list? Let her choose by wrapping up a beautifully-packaged Gift Card for the next special occasion. After all, what girl doesn't love options? Only redeemable at verabradley.com, Vera Bradley Stores and Vera Bradley Outlet Stores.
---
Customer Service Hours
Monday – Friday: 7 am – 11 pm (EST)
Saturday: 8 am – 9 pm (EST)
Sunday: 9 am – 6 pm (EST)
Vera Bradley Mailing Address
Vera Bradley Customer Service
11222 Stonebridge Road
Roanoke, IN 46783