Thing Remembered Stores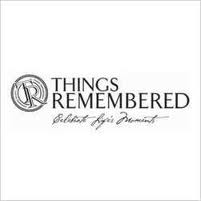 Things Remembered is the country's largest, most well-known retailer of custom-made gifts. The unique personalization idea behind Things Remembered has made its mark through over 40 years of craftsmanship and artistry. Its personalized gifts are a remarkable way of expressing heartfelt emotions through engraved words. The gifts are designed around the clients personal feelings – their own words are engraved embroidered, or painted with photograph.
Things Remembered Story
Over 40 years ago, a small engraving and services shop was established named "Can Do". Today, it has grown and gained popularity as Things Remembered, nation's first choice for personalized gifts.
Things Remembered has 600 nationwide stores providing excellent quality products and personalization services. Customers can browse through a wide assortment of gifts or bring in their own gift items and have them engraved at Things Remembered stores.
Customers can place orders online, at one of the 600 stores or through the Customer Service call center. Over 5,000 friendly and courteous team members attend customers with undivided attention and excellent service.
Things Remembered Gifts
The unique store offers gifts for various occasions such as birthday, graduation, wedding, housewarming, business, new job, anniversary and new baby. There are also special gifts for retirement, recognition, sympathy and religious holidays.
How Does Personalization Work?
Things Remembered stores create unique gifts by engraving, embroidering or painting words, designs, numbers and other characters, in a variety of colors and fonts, to custom-designed gifts. The result is a personalized, remarkable gift with names, poem, dates, sentiments or any other one-of-a-kind message which makes the gift exclusive and memorable. The IMuse is a personalization studio to help customers suggest the perfect message to express their emotions.
Gift categories include men and women's jewelry, men and women's accessories, frames and albums, drink ware, water globes, vases, office and sports gifts and baby gifts. There is also a special Photo to Canvas Art service and personalized woven photo throws.
Things Remembered Rewards Club
Becoming a Things Remembered Rewards Club member earns customers a $10 Reward Check for every $100 spent on purchase or personalization. There is also great Birthday Rewards Check for $10 and exclusive offers such as vouchers, coupons, private sales and bonus point.
Things Remembered Social Responsibility
Things Remembered store's commitment to Make-A-Wish Foundation began in 1997 and continues till date. The relationship has raised more than $6 million, proudly granting over 850 wishes.
Things Remembered extends its commitment to support causes like The American Cancer Association Relay for Life, The United Way, Fresh Air Camp, The March of Dimes, Domestic Violence Center, The Susan G. Komen Race for the Cute and Rebuilding Together.
This is what Things Remembered Stores look like: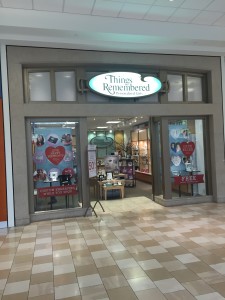 Related Articles:
Phone Numbers
Payment Address
Store Credit Cards