The Limited Credit Card Issued by Comenity Bank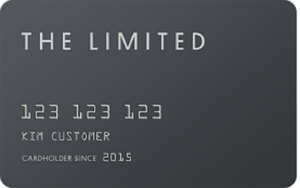 The Limited CardTM
The Possibilities Are Unlimited
Earn rewards* the way that you want!
Get a $15 Reward for every 300 points earned shopping with The Limited credit card
Shop with the card, to earn rewards, to buy more of what inspires you.
Build the wardrobe you want – for less.
Enjoy the exclusive benefits of being a cardmember:
Double Points Events to earn points, and rewards*, even faster.
Cardmember Events with exclusive promotions and special offers.
A Birthday Gift during the month of your birthday.
Free Hem Service on pants*purchased with The Limited Card.
The Limited Credit Card Login, Make a Payment & Customer Service
You can login and pay your credit card payment online. Simply have your checking account number and bank routing number available. Or, mail in your credit card payment to:
Comenity Bank
PO Box 182273
Columbus, OH 43218-2273
Customer Service
1-800-888-3257
(TDD/TTY 1-800-695-1788)
Customer Service  Hours
• Monday – Saturday
• 8am – 9pm ET.
• Closed Sundays
Live Customer Care hours may vary on holidays. Access automated Customer Care 365 days a year, 24 hours a day, 7 days a week.