Athleta Credit Card
The Athleta credit card is issued by Synchrony Bank. You can use your Athleta credit card for purchases and get special financing. This credit card offers promotions and discounts when you use your card.
You can use the Athleta credit card at thousands of retailers across the US.  You can receive rewards and earn points when you make a purchase at Athleta, Old Navy, Gap and  Banana Republic stores.  Plus, if you use your card anywhere Visa is accepted.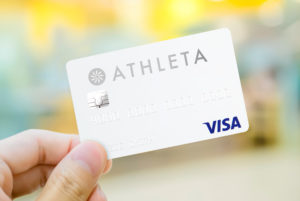 You will receive a detailed billing statement to view electronically or by mail 2-3 weeks after your first purchase, which includes your purchase, promotion, and payment details.
Manage your account with 24/7 access online. You can enroll in eBill and view statements anytime. You can login to your account and can also make same day payments or set up scheduled payments.
Mail Payments
PO Box 960061
Orlando, FL 32896-0061
Customer Service Phone
866-396-8254
Enjoy the Benefits  with the Athleta credit card by Synchrony Bank.
Special birthday gift for you.
Exclusive bonus point shopping days
Two free expedited shipping passes per year
Get early access to sales and more.
Synchrony Bank Credit Card Login
If you would like to check your credit card balance or make a payment, login to your credit card account.
Customer Service
Athleta Credit Card Questions
Do you find it difficult to locate a credit card phone number, login, find the address to pay your bill or see your statement? Contact customer service .
Apply for Credit
You can also apply for a credit card other than Athleta . Find a retail store credit card or major credit card where you can earn rewards or receive low interest rates.