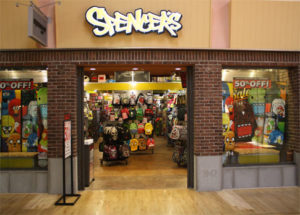 Mall-based retail chain offering novelty items & apparel, plus a selection of adult products.
From gag gifts to great gifts, outrageous guys tees, funny tees and custom tees, you can get it all atSpencer's. We have lava lamps, blacklights, beer pong and more.
Spencer's is the mall destination for entertainment, excitement and fun. For over 65 years they have been offering unique product for the lifestyle of our core 18-24 year old guests, who are high energy, technologically savvy, edgy, demanding, independent and always inspired by humor and irreverence.
Related Articles:
Phone Numbers
Payment Address
Store Credit Cards