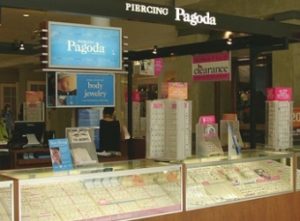 Mall-based retailer offering ear-piercing services, earrings & a range of other jewelry.  Get Free Ear Piercing at store with purchase. Choose from over 100+ styles of earrings.
Jewelry: Earrings, Necklaces, Rings, Charms
Metals: Sterling Silver, Gold, Stainless Steel, Bronze, Brass
At Piercing Pagoda, you'll find all of your jewelry needs, including ear piercing, gold, sterling silver, diamonds and gems, body jewelry, stainless steel and more.
Since 1969, Piercing Pagoda has been widely-known as the gold kiosk leader in shopping malls, and it remains the core ear piercing business today. Trust in Piercing Pagoda's ear piercing expertise spans second and third generations of loyal customers.
Piercing Pagoda stands behind every product we sell. If you are not satisfied with your purchase, you may return or exchange the item to us via insured traceable mail or to any of our 780 kiosks nationwide.
Pagoda Gift Cards
Good for purchases on Pagoda.com, at Pagoda retail stores, or by phone. Perfect for any occasion and available in four fun designs.
Free ear piercing
Free ear piercing is provided to our customers with the purchase of piercing earrings. Please keep in mind that anyone under 18 years of age must have the consent of a parent or legal guardian to obtain ear piercing services
Customer service
Customer service is available 24 hours a day, 7 days a week by calling 1-800-866-9700. Our phone representatives are able to assist you with placing an order, tracking an order, or resolving any issues you have with your order. Spanish-speaking representatives are available 8 a.m. – 4 p.m. ET.
Related Articles:
Phone Numbers
Payment Address
Store Credit Cards