A Pea In The Pod Store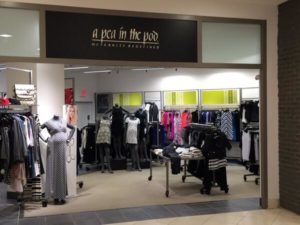 Shop at A Pea In The Pod
Specializes in maternity clothing for women for everyday casual to sophisticated career clothing.  Offers maternity wear for casual and career clothing.
Maternity Gift Card
Gift cards make the perfect present for any mom-to-be!
These gift cards may be redeemed at A Pea In The Pod, Destination Maternity, and Motherhood Maternity stores, and online at apeainthepod.com, destinationmaternity.com, and motherhood.com.
Gift cards may not be used at A Pea in the Pod departments within Macy's stores.
Please note that Mimi Maternity gift cards may also be redeemed anywhere that A Pea in the Pod gift cards is accepted.
They are pleased to offer FREE standard shipping on all gift cards. The delivery time frame is 3-7 business days.  Also, get information regarding their store credit cards.
If you are looking for other types of retail credit cards you can also apply for a credit card that gives you saving and rewards.
Customer Service
By Phone: 1.877.273.2763)
Customer Service Hours are:
Monday-Friday from 8:00 am to 10 pm EST
Saturday-Sunday from 9:00 am to 8:00 pm EST
For Customer Merchandise Returns:
Destination Maternity Corporation
Attn: Returns Department
1000 John Galt Way
Burlington, NJ 08016-2140
For Customer Care:
Destination Maternity Corporation
Attn: Customer Service
232 Strawbridge Drive
Moorestown, NJ 08057
By Fax: 856-291-9918
To contact Corporate Office:
call 856-291-9700 press 0 for assistance
Corporate Office Hours are: Mon-Fri, 8am-5pm EST
Related Articles:
Phone Numbers
Payment Address
Store Credit Cards