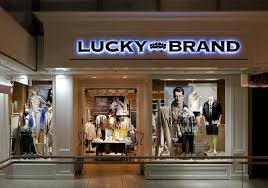 Lucky Brand Jeans is an American denim company founded in Vernon, California, United States in 1990 by Gene Montesano and Barry Perlman. Lucky also produces sportswear, outerwear, T-shirts and active wear.
Lucky Brand know that jeans are much more than just denim, they are a true blue American icon.
Staying true to the rich heritage — and authentic, all-American spirit — of denim, Lucky Brand began crafting great-fitting, vintage-inspired jeans in Los Angeles in 1990. They literally putting them through the wringer — ripping, fraying, sanding, patching and washing by hand — to give them true character and soul. Then, they added authentic hardware, personalized touches and playful details, and an American legend was born.
Their jeans are made for the free-thinker, the artist, the dreamer; they're made to dance, work, run, jump, play and rock 'n' roll (just like you). The inspiration doesn't just come from the rugged workwear of denim pioneers, but from the free spirit and laid-back lifestyle of our Southern California roots.
GIFT CARDS & E-GIFT CARDS
Gift cards and e-gift cards may be ordered in fixed dollar amounts up to $500.
Gift cards are not shipped internationally. However, e-gift cards are available to purchase and can be redeemed at Luckybrand.com.
E-gift cards can be sent via email to any individual with a valid email address. The recipient of an e-gift card will receive one email including two important numbers: the e-gift card number and PIN. As with any purchase, you will receive a confirmation email once the gift card has shipped or once the e-gift card email has been sent to the recipient.
A gift card cannot be purchased using another gift card or e-gift card. The same applies to e-gift cards.
No sales tax is charged when purchasing a gift card. Lost or stolen gift card/e-gift cards cannot be replaced.
To purchase a gift card or an e-gift card, click here.
Related Articles:
Phone Numbers
Payment Address
Store Credit Cards