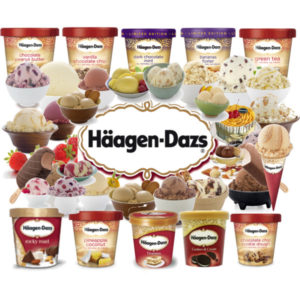 Premium and low fat ice cream. Find flavor listings and nutrition facts for products, search for recipes, or use the cafe locator to find Häagen-Dazs shops. For more than 50 years, their passion for crafting the perfect flavors and creamiest textures using only the finest ingredients is what has set the Häagen-Dazs® brand apart.  Today, the Häagen-Dazs® brand continues to transform the finest ingredients into extraordinary experiences bite by bite.
Specializes in Ice Cream, Gelato, Bars, Frozen Yogurt and Sorbets. Every flavor is extraordinary. There are many shop specialites to order when you arrive at any location.
DAZZLERthe Häagen-Dazs® – Dazzler is the ultimate portable three-scoop sundae! They take three scoops of ice cream, add a layer of topping between each scoop and put it into a large cup for a sundae that is truly decadent.
SUNDAES – A scoop of this, a drizzle of that, a sprinkle of something crunchy perhaps? satisfy the urge for just the right combination.
Cups and Cones – Two classic ways to enjoy every extraordinary flavor.
SHAKES – Try your favorite flavor as an ice cream shake or malt! Pick any flavor, and they will make it into a smooth, creamy premium shake or malt in minutes. Available in large or small. 
CAKES – Häagen-Dazs® shop offer a variety of indulgent ice cream cakes, customizable for any occasion. each one is specifically created with your choice of Häagen-Dazs® ice cream flavors. choose from a range of sizes and designs to suit your event and number of guests. from birthday to anniversaries and more, Häagen-Dazs® ice cream cakes turn any event into an elegant celebration.
COFFEE FRAPPE – The Coffee Frappe mixes blends Häagen–Dazs® coffee ice cream with ice, milk, espresso and syrup for an extraordinary chilled beverage. available in classic coffee, dulce and mocha.
Visit a Häagen-Dazs® Near You