GORMANS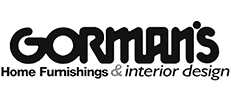 Gorman's Furniture Store has it all.  No matter what your budget or style they have over 100 brands of furniture that will surely suit your needs.  With the lowest prices guaranteed you won't be disappointed.
Many stores try to give the impression that they have selection by naming a few brands. The real fact is, Gorman's HAS all the best brands in home furnishings, all in one place. Our passion is to offer the 100 Best Brands, edited by our buyers, presented in Lifestyles and Specialty Shops to make it easier than ever for you to find style-leading, value priced fashions for your home.
Choose from some of the finest furniture brands available. Below is a partial list of the vendors available through Gorman's:
ACCENTS BEYOND
AGIO INTERNATIONAL
ALF
AMERICAN LEATHER
AMISCO INDUSTRIES
ART FURNITURE
ARTISTICA
BDI
BERNHARDT
BRADINGTON YOUNG
BROWN JORDAN
CALLIGARIS
CANADEL
CARACOLE
CARTER
CENTURY FURNITURE
CHADDOCK
CHARLESTON FORGE
CHRISTOPHER GUY
COMFORT DESIGN
COURISTAN
COX MANUFACTURING
CRAFTMASTER
CREATIVE ELEGANCE
DESIGN INSTITUTE AMERICA
DESIGNMASTER
DREXEL HERITAGE
DURALEE FABRIC
EASTERN ACCENTS
EKORNES
ELITE
FABRICUT
FAIRFIELD CHAIR CO.
FEIZY
FINE FURNITURE
FLEXSTEEL
FREESTYLE
GODFREY HIRST CARPET
HANCOCK & MOORE
HARDEN FURNITURE
HEKMAN
HENREDON
HICKORY CHAIR
HICKORY WHITE FURNITURE
HOOKER FURNITURE
HUNTER DOUGLAS
IMG INTERNATIONAL
JESPER OFFICE, INC
JOHN RICHARD COMPANY
JOHNSTON CASUALS
KALEIDOSCOPE
KINCAID
KINDEL
KRAVET
LA BARGE MIRRORS
LANE VENTURE
LAZAR
LEGACY
LEXINGTON FURNITURE
LILLIAN AUGUST
LLOYD FLANDERS
MAITLAND SMITH
MARGE CARSON
MOBICAN FURNITURE
MOTIONCRAFT
NATUZZI EDITIONS
NATUZZI ITALIA
NICHOLS AND STONE
NUEVO
PALLISER
PAUL ROBERT
PRECEDENT
PULASKI FURNITURE
REUAL JAMES
ROBERT ALLEN FABRIC
SAFAVIEH
SALOOM FURNITURE
SAM MOORE FURNITURE
SCHNADIG
SEALY
SERTA
SHERRILL FURNITURE
SHERRILL OCCASIONAL
SIMPLY AMISH
SLIGH FURNITURE
SOUTHERN FURNITURE
STANLEY FURNITURE
STAR INTERNATIONAL
STEIN WORLD
STICKLEY
STONE INTERNATIONAL
STYLE UPHOLSTERING
SUMMER CLASSICS
SURYA
SWAIM ORIGINALS
THAYER COGGIN
THEODORE & ALEXANDER
THOMASVILLE
UNIVERSAL FURNITURE
UTTERMOST COMPANY
VANGUARD FURNITURE
VISUAL COMFORT & CO
W. SCHILLIG
WHITEWOOD INDUSTRIES
WOODARD-CM
WOODBRIDGE
ZUO MODERN
100 Brands
Contact Us
Financing
Interior Design
Locations
Management
Must Be Right
National Low Price Guarantee
Our History
Interior Design
Gorman's has prided itself for over 60 years in being the style leader for interior design.  They do more than you would think and it is all complimentary.  Everyone gets a free 1-hour consultation with absolutely no obligation.  All of their interior designers have access to over 100 brands, unlimited selections and customization options, on top of their great experience.  They are able to provide this service free to you because they are confident that they can help you. They are also able to offer you a variety of financing to fit your needs.
Find a Gormans Location Near  You

Related Articles:
Phone Numbers
Payment Address
Store Credit Cards