Footaction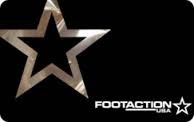 Footaction is a national athletic footwear and apparel retailer. The primary customers are young males that seek street-inspired athletic styles. Its 319 stores are located throughout the United States and Puerto Rico and focus on marquee footwear and branded apparel. The Footaction stores have an average of 2,900 selling square feet.
Give the perfect gift a Footaction gift card.  Available in multiple designs and in any denomination.  Footaction gift cards can be used online, or in stores.  Free standard shipping when ordered online.
Footaction Store for Men and Women
About Footaction
Popular among young and energetic athletes, Footaction is the hub of all latest athletic trends. The sports-oriented chain of retailer stores carries athletic footwear and apparel. Footaction mainly targets young street inspired males and females who are fitness and health-oriented and like to dress up casually. Footaction has 335 stores throughout US and Puerto Rico.
Footaction Store Acquisition
In March 2004, Footstar Inc. filed for bankruptcy while Footaction Stores were still under its ownership. That is when Foot Locker agreed to purchase about 350 of Footaction USA brand stores to increase its market share in urban areas and consummated the purchase in May 2004.
The decision to acquire Footaction was a reflection of Foot Locker's strategic business policy of acquisition of a like-minded athletic footwear and apparel retailer.
Footaction Product Line
Footaction store for men and women carries a variety of shoes to serve different purposes like running shoes, basketball shoes, casuals, training shoes, boots and sandals. The apparel segment consists of hoodies, jeans, jackets, pants, shorts, t-shirts and more. Footaction not only carries athletic shoes and apparel that are the hottest trends in the sports fad, the store also sells stylish bags, hats, socks, and sunglasses to compliment the athletic attire.
Top Brands
Adidas
Converse
Nike
Levi's
Timberland
Oakley
Reebok  and more
The LOOKS
The LOOKS is Footaction's unique online concept on their website where the most raging trends in sporty looks are displayed in order of preference. The idea not only promotes the latest product line, it also makes it easier for the sport fanatics to stay updated with the hottest trends and pick a look that suits their personality to make purchases accordingly.
Footaction Star Club
Footaction store for men and women has an exclusive Star Club for its loyal customers. Star Club members are entitled to receive the hottest deals and the sneak peek on the freshest stock. Star Club Rewards include:
Promotional $10 off coupon on preceding purchase of $50 or more
Star Club-exclusive articles, interviews and more.
Upgrade to Gold status on annual purchase of $225.
Gold Club members receive $10, $15 or $20 rewards card on a single purchase of $100, $150 and $200 respectively.
Birthday discounts.
Foot Locker is the market leader in the US's athletic footwear business. With headquarters in Manhattan, NYC, the store operates in about 20 countries around the world. The company's assets comprise of the leading athletics retails stores – the chains Foot Locker (and its Kids and Lady Store concept versions), Footaction store for men and women, and Champs Sports.
Related Articles:
Phone Numbers
Payment Address
Store Credit Cards