The Belk credit card is a great credit card if you are a fan of Belk stores. If approved, you can use this card for many products at Belk stores.  The Belk Rewards Card and Belk Rewards MasterCard are issued by Synchrony Bank.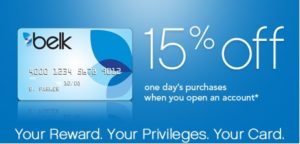 Belk offer's these three credit cards:
Belk Rewards
Belk Premier
Belk Elite
Synchrony Belk Credit Card
Synchrony Bank is the mothership of credit card issuers. They have hundreds of different credit cards they manage along with the Belk credit program.
Belk Rewards Offers
Along with a credit program, with the Belk rewards credit card offers free shipping on qualifying orders. They offer easy returns when you shop Belk for clothing, handbags … Belk Credit Card. 
RATES AND FEES TABLE – BELK REWARDS CARD ACCOUNT
Interest Rates and Interest Charges
Annual Percentage Rate
25.49%

How to Avoid Paying Interest every month
Your due date is at least 23 days after the close of each billing cycle. Belk will not charge you any interest if you pay your entire balance by the due date.
Minimum Interest Charge
If you are charged interest, the charge will be no less than $1.00.
Tips from the Consumer Financial Protection Bureau
Visit the Consumer Financial Protection Bureau at

http://www.consumerfinance.gov/learnmore

.
Late Payment Fees
Penalty Fees
Up to $38
Please read all terms very carefully if you have more questions or concerns contact Synchrony Bank. Call us at 1-800-815-4051 if you have any questions.
Belk Credit
At Belk credit you can manage Your Belk credit account online. You will be able to manage your rewards all from one website.