Costco  Memberships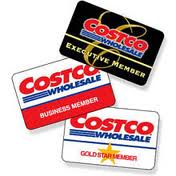 See for yourself why 50 million people are Costco members. You'll appreciate the quality and value of the products you find at Costco.
Sign up for Costco Memberships:
Executive Membership 
Includes household membership
$110.00 Annual Membership Fee
Annual 2% Reward and More
Executive Membership is our highest level of membership. All Executive Members enjoy a 2% Reward (up to $750 per year) on most Costco purchases, as well as additional benefits and greater discounts on our suite of services.
Business Membership
Includes household membership
$55.00 Annual Membership Fee
Up to Six Additional Card Holders
Business Membership, available for business owners and managers, allows the purchase of products for business, personal and resale use. Business members may also add up to six additional card holders to their account for an additional $55 each, includes household membership.
Gold Star Membership
Includes household membership
$55.00 Annual Membership Fee
For Individuals and Households
Gold Star Membership is available for individuals who want to purchase products mainly for personal use.
Gift of Gold Star Membership
$55.00
Give a gift of lasting value, a gift that opens up a world of savings on high-quality, brand-name merchandise. One-year Gold Star gift memberships, which can be renewed by the recipient, are available for purchase by Costco members. A Costco membership is good at more than 590 Costco locations worldwide and online at Costco.com.
Related Articles:
Phone Numbers
Payment Address
Store Credit Cards