Coldwater Creek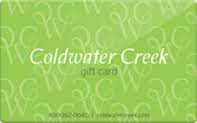 Your Coldwater Creek Gift Card will be honored for merchandise at Coldwater Creek retail and Spa stores, Factory stores, through Coldwater Creek catalogs or for online purchases at coldwatercreek.com. Except as otherwise required by law and in New Jersey, this Card is not redeemable for cash and will not be replaced if lost or stolen. Purchases will be deducted from your Card until the value reaches zero. By accepting and using this Gift Card you agree to the terms and conditions now in effect or as may be required by law. For questions, balance inquiries or to access Gift Card terms and conditions, call 800.262.0040. Gift Card terms and conditions may also be viewed on www.coldwatercreek.com/Giftcards. Coldwater Creek reserves the right to change the terms and conditions of its Gift Card program.
The Coldwater Creek Gift Card is intended for use as a gift to an individual. Resale of this Card or use for unauthorized advertising, marketing, sweepstakes or other promotional purposes is strictly prohibited. Coldwater Creek reserves the right, in its sole discretion, to refuse to honor any gift card that is used in a manner inconsistent with these terms and conditions, including without limitation any fraudulent use. If Coldwater Creek suspects misuse of the Card, it may be suspended or terminated.
Coldwater Creek Gift Cards are issued and sold by Coldwater Creek U.S. Inc. By purchasing, accepting, retaining or using this Gift Card, you agree that the laws of the state of Idaho, without regard to principles of conflicts of laws, will govern these Gift Card terms and conditions.
Any dispute relating in any way to Coldwater Creek Gift Cards shall be submitted to confidential arbitration in Sandpoint, Idaho, except that, to the extent you have in any manner violated or threatened to violate Coldwater Creek's intellectual property rights, Coldwater Creek may seek injunctive or other appropriate relief in any state or federal court in Idaho, and you consent to exclusive jurisdiction and venue in such courts. Arbitration under these terms and conditions shall be conducted under the rules then prevailing of the American Arbitration Association. The arbitrator's award shall be binding and may be entered as a judgment in any court of competent jurisdiction. To the fullest extent permitted by applicable law, no arbitration under these terms and conditions shall be joined to an arbitration involving any other party subject to these terms and conditions, whether through class arbitration proceedings or otherwise.
Coldwater Creek Gift Cards may be used for legitimate purchases of merchandise through Coldwater Creek and not for the purpose of obtaining cash from Coldwater Creek. You may not return merchandise obtained with a Coldwater Creek Gift Card for a cash refund.
Related Articles:
Phone Numbers
Payment Address
Store Credit Cards