Bloomingdale's Frequently Asked Questions
Regarding Credit Card and Account

How can I make changes to my order?
You have 30 minutes to change your order after you have placed it. However, if you have chosen to Buy Online, Pick Up In Store OR use Same-Day Delivery, you only have 15 minutes to change your order. To make changes to your order, you must contact Customer Service at 1.800.777.0000 during business hours.
What are my payment options?
You may make your payments in a variety of ways:
Make a one-time payment online.
Set up automatic payments online.
Pay in any of our stores.
Pay by mail.
Pay by phone (This is a free service).
How do I create a bloomingdales.com online account?
It's free and easy to create an online account, which will enable you to easily update your information, pay your bill, see store events and receive special offers.
With an online account, you can:
Receive emails and texts about sales, promotions, offers and events.*
Securely save shipping and billing information for a swift checkout, which includes the "My Wallet" feature.
Store your favorite items in "My Wish List" to let friends and family know exactly what's on your shopping list.
*To receive email offers, you must subscribe to promotional offers.
Log In To Your Account
What is the Bloomingdale's new account discount?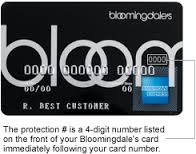 One of the great benefits of opening a new Bloomingdale's Store or Bloomingdale's American Express® Card is the new account discount!
On the day you're approved for a Bloomingdale's Card, and on the following day, you will receive a 10% new account discount for in-store and bloomingdales.com merchandise purchases made on your Bloomingdale's Card, up to a total amount of $250 in savings.*
The new account discount:
Will not appear on your register receipts or during checkout. Instead it will appear as a separate line item on your billing statement.
Does not apply to services, certain licensed departments and Gift Cards. Applicants must qualify for immediate approval to receive the discount; applicants requiring further processing will not receive the discount.
Cannot be combined with other discount offers except where indicated and it may not be applied to previous purchases.
Is limited to a total savings of up to $250 on your purchases over the two days.
Applies to new accounts only. Does not apply to an upgrade from a store account to the Bloomingdale's American Express account.
Bloomingdales Credit Card Login
If you would like to check your account balance, or make a credit card payment you can login into your account and do so online.
Bloomingdales Credit Card Questions
Do you find it difficult to locate a credit card phone number, login, find the address to pay your bill or see your statement? Contact customer service .
Apply for Credit
You can also apply for a credit card other than Bloomingales.  Find a retail store credit card or major credit card where you can earn rewards or receive low interest rates.