American Eagle Rewards
GET REWARDED FOR SHOPPING THE TWO BRANDS YOU LOVE
It's really simple. Earn one point for every dollar spent at American Eagle, ae.com, Aerie or aerie.com. Points are totaled every three months, then your Rewards are delivered right to your door. It doesn't get any easier than that.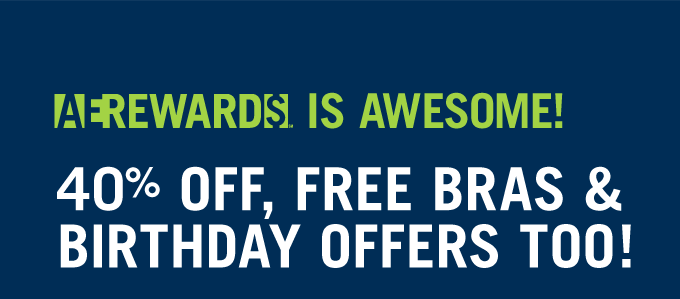 GET GOOD STUFF.
15% off the month of your birthday at AE or Aerie when you share your e-mail
Free Aerie Bra: Buy 5 Bras Get the 6th Free. DETAILS
Members-Only Sales and Events
Earn 1 Point for every dollar spent, online or at American Eagle or Aerie. Points are totaled every 3 months. Then Rewards are sent.
100 POINTS – 15% OFF
200 POINTS – 20% OFF
350 POINTS – 30% OFF
500 POINTS – 40% OFF